For en tid siden skrev jeg om ønsket funksjonalitet i Opera – hva som skal til for at den fete damen skal ta det høyst påkrevede steget over i neste generasjon nettlesere. Web browser 2.0 om du vil. For å i sjangertro blogge-narsissistisk stil sitere meg selv:
En del av denne funksjonaliteten (f.eks. synkroniseringsverktøy) dukker nok opp i en Firefox-extension før vi får se det i Opera.
Ganske riktig. En extension, eller en utvidelse, er altså et frittstående verktøy man kan "bygge ut" Firefox med. Og mer og mer av det en nettleser bør kunne gjøre, ser nå dagens lys nettopp i form av slike utvidelser. Jeg skal ta en titt på noen av dem.
Meta/sosial web/tillit
Som nevnt tidligere vil jeg ha mer meta, mer om. Bedre synligjøring av nettverket. Per i dag er weben litt for mye av en "broken conversation", en ensidig historie, små deler litt for løselig satt sammen. Joda, websider er koblet sammen både teknisk og konseptuelt, men altfor mange av koblingene er usynlige for brukeren. Hva slags side er det egentlig jeg er inne på nå – er den oppdaget av andre, i såfall av hvem, og hva sier de?
Det disse verktøyene gjør, er å søke etter referanser (i henholdsvis Google Blogsearch og Technorati) fra andre sider, til websiden man befinner seg på, for så å linke tilbake til disse. Det er lett for at det blir krøllete tungetale her, men altså; dersom du hadde hatt en av disse redskapene installert nå, ville du kunne sett ulike referanser til i1277 i hjørnet: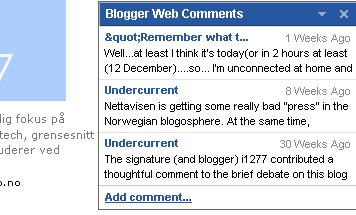 Eksempelet over viser Blogger Web Comments i aksjon. Technorati Links er ikke like strømlinjeformet og funksjonell som Google sin variant, men drar til gjengjeld fordel av at Technorati foreløpig er noe bedre til å finne refereranser enn Google Blogsearch. Det er ellers nok av skjønnhetsfeil; ingen av dem er gode nok til å finne referanser, og Blogger Web Comments forkludrer resultatene ved å ta med en sides referanser til seg selv.
Potensialet for denne typen tjenester er imidlertid veldig stort. En av hypertekstens (og dermed webens) gudfedre Ted Nelson har etter sigende lite til overs for www. For han er weben en forkrøplet form for hypertekst, blant annet fordi linker bare går én vei. Men hvem vet om ikke mister Nelson smiler litt i skjegget over de senere års utvikling: Webbrukere som produsenter (ikke bare konsumenter), wiki, blogger og tilbaketråkk, stadig bedre integrering mellom ulike ressurser- toveisweben nærmer seg.
Der de foregående eksemplene kobler sammen eksisterende webinnhold, eksemplifiserer de to neste en annen tilnærming til å produsere meta: Å bygge nye databaser.
Outfoxed uses your network of trusted friends and experts to help you find the good stuff and avoid the bad.
Meningen er at man som bruker skal kunne legge til beskrivelser av hvilken som helst side, samt klassifisere de ved hjelp av den klassiske dikotomien good-bad. Det skal i teorien virke sånn at dersom Gamlefar lures inn på freenigerianmoney.com, får han se en advarsel fra sønnen: "Hold deg unna fatter, dette er bare luring og pek". Og skulle han surfe innom komplett.no vil budskapet være at "her har de nok mange flotte julegaver".
Dette hadde nok fungert utmerket dersom weben begrenset seg til et par hundre sider, men nettet er altså større enn som så. Det er følgelig noe naivt å tro at man skal kunne støtte seg på en eller flere personlige "web-companions" på denne måten. Og har man ingen bekjente som bruker Outfoxed, har man heller ikke noe tiltrodd nettverk. Jeg har i hvert fall etter endel bruk fremdeles ikke kommet over én eneste side knyttet til en Outfoxed-rapport (hvis vi ser bort fra deres egen hjemmeside). Outfoxed er inne på noe, men noen av forutsetningene bak skurrer. I stedet for å ta utgangspunkt i noen få utvalgte, burde de støttet seg mer på "the wisdom of the crowds". Den som klarer å sette sammen den rette blandingen av ingrediensene eksperter, "wisdom of the crowds" og "betrodde nettverk", sitter på oppskriften til et kokverk så vidunderlig at selv the Soup Nazi ville tigget ydmykt om en smak. Jeg er overbevist om at tjenester som Outfoxed kommer sterkere tilbake.
Google Safe Browsing er en mer begrenset, men samtidig mer fokusert slektning av Outfoxed. For brukeren handler GSB om å utnytte Google sin informasjon for å unngå å bli offer for "phishing" ("bedragersk fisking etter personlige data og kredittopplysninger"). For Google sin del er dette enda en snedig måte å samle inn detaljerte opplysninger om folks surfevaner. Google Safe Browsing er foreløpig bare tilgjengelig i USA. Kritiske røster har forøvrig påpekt at denne utvidelsen kan virke mot sin hensikt, ettersom bruk av enkelte webtjenester (som overfører brukerdata ved hjelp av GET) vil føre til at informasjon (f.eks kredittopplysninger) sendes over nettverket (og til Google) i klartekst.
Navigasjon og organisering
En kjær funksjon i MDI-nettlesere som Opera og Firefox er at man kan åpne en lenke i et ny "fane"/"tab", for på den måten å kunne arbeide med flere dokumenter samtidig, eller eventuelt legge sider i bakgrunnen "på vent". Et potensielt problem er at det nye vinduet starter med "blanke ark", hvilket vil si at dersom man lukker vinduet med den originale linken, mister man vinduets historie. Dermed kan man ikke lenger "bla seg bakover" for å finne ut av hvordan det nå var man havnet akkurat "her". Det hadde vært bedre om "avkom-vinduer" arvet historien til foreldre-vinduene. How d'i get here klarer ikke dette, men den viser oss i det minste hvilken side som førte oss akkurat hit.
Når utvikleren selv sier at "this extension strongly unrecommended" sier det vel noe om hvor kronglete og uhåndterlig denne er. Men en av idéene bak tar utgangspunkt i noe jeg lenge har ønsket fra Opera: Muligheten til å gruppere sidene man har åpne. Etter litt research viser det seg at også andre ønsker seg dette, Opera-superbruker Non-Troppo foreslo nettoppp dette i fjor. For meg som liker å ha utallige sider åpne hadde det vært en velsignelse å kunne dra og slippe til ulike grupper (fag, bloggrelatert, nyheter, snodigheter), og kunne la de gruppene man ikke hadde bruk for i øyeblikket, få litt velfortjent dvale.
Disse utvidelsene lar deg manøvrere visuelt, ved å vise miniatyrbilder av åpne vinduer. Funksjonalitet jeg lenge har ventet på, ettersom bilder er enklere for minnet å forholde seg til enn ren tekst. Jeg har ikke brukt de lenge nok til å kunne avgjøre nytteverdien, men det kan virke som miniatyrbildene blir for små til å være veldig brukbare. Ellers kunne jeg ønske meg at man i tillegg til denne "horisontale" visualiseringen, kunne få en "vertikal" – altså selve vindushistorien presentert med skjermbilder. How'd I Get Here ville med ett blitt øyensynlig.
Til slutt: Firefox sine utvidelser er ikke uproblematiske – det blir lett et sammensurium av feil og ulike versjoner og inkompatible funksjoner. Et Opera som kommer som et ferdig og helhetlig produkt er så mye lettere å forholde seg til. Men funksjonaliteten som demonstreres har så mye for seg at at jeg håper at Opera tar notater. Jeg bytter nok ikke til en (for en Operabruker) kaotisk og kronglete nettleser som Firefox uten videre, men fortsetter denne utviklingen, blir det stadig vanskeligere å la være. Firefox-communitet har stjålet nesten rubb og rake av Operas funksjonalitet – nå er det på tide at Opera forsyner seg tilbake med noen rettmessige munnfuller.