Digitaliteten skal altså bort fra øyeinntørkende skjermer og ut i mer eller mindre frisk luft. Noe kunstnere og andre kreative sjeler vet å benytte seg av.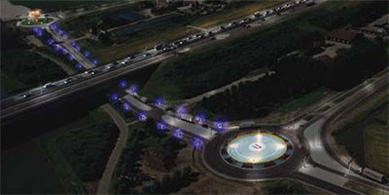 Bildet viser et veianlegg et sted i Nederland, der noen har brukt to rundkjøringer til å lage en fantastisk landingsplass for UFOer. Google Sightseeing forklarer:
The tower at the centre of the western roundabout will change colour when the traffic intensity on the roads is low, signalling to alien craft that now is a good time to land (presumably one or two cars getting squished by a spacecraft is a worthwhile sacrifice).

Blue lights will then illuminate the 300m stretch of road to the eastern roundabout, where the landing pad is clearly marked with a big "U" (for UFO of course).
(Via Information Aesthetics.)
Electroland er en gruppe som gjør diverse lekne elektrokunstinstallasjoner i offentlige rom, ofte bruker de lys og farger for å lage forbindelser mellom mennesker som befinner seg i nærheten av hverandre.
Dette er the Southern California Institute of Architecture, der fargede lys danner mønstre gjennom en 180 meter lang rekke med vinduer. "Patterns are controlled by cellphone by any caller from any location, raising issues concerning private interaction and control of public spaces."
Flere eksempler på elektroniske gatekrumspring:
Hva med vårt kjære Bergen? Her skorter det foreløpig på denne typen "klikkbare" installasjoner. Det var riktignok planer om å gjøre Lysdansen på Ulriken interaktiv ved hjelp av SMS, men dette har det ikke blitt noe av.
Omtrent her er det Bergen rådhus kommer inn i bildet. Alle i byen er jo enige om at vi har et begredelig rådhus. Det vil si, alle med unntak av enkelte arkitekter og intellektuelle hipsters som mener at dette må være flotte saker, siden arkitekt Erling Viksjø var inspirert av selveste Le Corbusier, alle drabantbyers far og mannen som så på hus som bomaskiner og byer som livsløpsfabrikker.
Rådhuset kunne kanskje passert som tilholdssted for et lavstatus-departement i Brasilia – i Bergen hører det ikke hjemme. Men når det først står der, må det da kunne brukes til noe?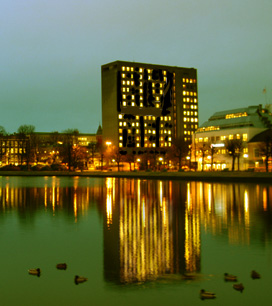 La det bli lys. Med kreativ kabling og pertentlig programmering forandres fasaden til en skjerm (med opp til 13 ganger 13 pikslers oppløsning) som kan brukes til så mangt. Eksempelvis trenger NHH-studentene idéer til sine årlige rekordforsøk. Byen huser nok geeks, kunstnere og spillentusiaster til at Rådhusskjermen bør kunne la seg gjennomføre uten for mye knussel. PR-hungrige politikere bør være mer enn velvillige. Iverksett operasjon Klikkbar offentlighet!
Oppdatering, september: Jeg glemte lydinstallsjonen på Bygg for biologiske basalfag (BBB) på Haukeland. Mer om dette og andre prosjekter i publikasjonen Elektronisk kunst i det offentlige rom.