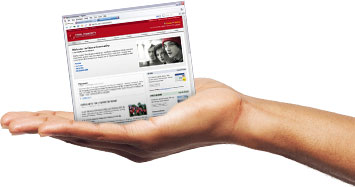 Denne uken har Opera droppet reklamemodellen, hvilket gjør Opera like gratis som alle andre nettlesere der ute. Det skulle de nok gjort før.
Da Firebird ble til Firefox klarte klarte de å spise en god del markedsandeler fra tidligere enerådende Internet Explorer. Blant grunnene var et gjenkjennelig og enkelt grensesnitt, frekk funksjonalitet samt den webpolitisk korrekte hipphet som følger med det å ha åpne standarder. Denne utviklingen må ha vært en bittersøt opplevelse for Opera Software. De har lenge drømt om å se IE-monopolet gå i oppløsning, og når det så det muligens endelig skjer er det altså til fordel for en konkurrent. Det gjør vel ikke saken stort bedre at Firefox krediteres for diverse innovasjoner som egentlig stammer fra Opera og andre.
Og hva er så Operas viktigste funksjoner?
MDI-modusen, eller vindu-i-vindu-grensesnittet, som gjør det mulig å jobbe med mange sider samtidig og likevel ha det noenlunde oversiktelig. Man gis den særdeles praktiske muligheten til å fortsette der man slapp da man sist lukket nettleseren.
Mouse gestures – "musbevegelser" som lar deg utføre vanlige operasjoner som å navigere frem og tilbake, lukke vinduer, åpne linker i nytt vindu osv. enklere og raskere enn det er mulig å gjøre med tradisjonelle knapper og tastatursnarveier. (Jeg kan forøvrig varmt anbefale StrokeIt som utvider denne funksjonaliteten til resten av Windows.)
Intelligent mellomlagring/caching. Beveger man seg fram eller tilbake i nettleserhistorien slipper man at siden lastes på nytt igjen, slik den gjør i andre browsere. Diverse studier har anslått at tilbake-knappen står for mellom 30-40 prosent av all navigasjon, så her spares man for mye unødig venting.
Og så videre. Firefox og FF-extension-utviklere har forlengst snappet opp de to første idéene, og i versjon 1.5 som slippes om kort tid implementeres visstnok også caching på Opera-måten. Dermed har Opera en utfordring: Hva skal de by på som ikke konkurrentene kan friste med? Er det i det hele tatt mulig å trygge posisjonen som verdens beste nettleser?
A new generation calling
Forenkler vi verden litt ved å snuble elegant over Mosaic og webens barndom, kan vi si at Internet Explorer med sin begrensede funksjonalitet tilhører første generasjon nettlesere, der Opera og Firefox tilhører andre. Før Firefox kopierer rubb og rake av Opera og IE til slutt dilter etter, er det på tide at Opera viser muskler igjen, og tar steget inn i neste generasjon. Det vi trenger gode idéer og funksjonalitet som er tilpasset hvordan vi bruker weben på i dag, og ikke hvordan vi brukte den for fem år siden. Opera 8 var i så måte en skuffelse, selv om mye bra har skjedd under panseret er det sparsomt med synlige nyskapninger. Mest synlig er det nye vedhenget til adresselinjen som er mer irriterende enn det er nyttig.
Men hva snakker du om egentlig?
Selv om standardlydighet er viktig, må vi slutte å tenke på en nettleser som et program hvis eneste oppgave er å lese HTML og andre webteknologier. Jeg vil ha en nettleser som fokuserer på innhold, ikke bare på struktur. Vårt hovedverktøy mot nettet bør være et CMS like mye som en kodetolker. Vi søker ikke bare etter nye sider på web, ofte leter vi etter sider vi har besøkt tidligere. Hva med å bygge en nettleser som i større grad støtter vårt behov for gjensyn?
Historien gjentar seg
En måte å finne tilbake til fordums sider på er å søke etter sidetittelen i Operas historie. Nyttig, men bare dersom vi tilfeldigvis husker tittelen på siden – hvorfor ikke la oss søke i fullteksten, som jo ligger i cachen uansett?
Et bilde sier mer…
Der datamaskiners minne er knyttet til tekststrenger (hvis vi med godvilje hever oss over nuller og enere), er menneskelig minne sterkt knyttet til det visuelle. Men de gammeldagse historie- og bokmerkefunksjonene gir oss bare adgang til førstnevnte. Hvorfor ikke la oss navigere historien visuelt? Når vi lagrer et bokmerker til et dokument reduseres en ressurs med tusener av farger og visuelle kjennetegn til rader av bokstaver som ved første øyekast ser veldig like ut. La meg få et "thumbnail-view" av vindushistorien, så jeg lettere kan holde styr på hvordan det nå var jeg fant fram til akkurat det dokumentet. Noen som foretrekker tekst, sier du? Vel, gi oss både og. La oss selv finne ut av hva som fungerer best.
For mange vinduer åpne = gjennomtrekk?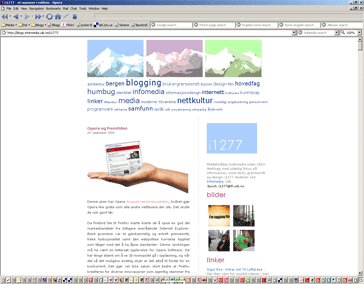 Jeg har som regel mange titalls åpne Opera-vinduer samtidig. Nettopp fordi det er så mye det mye enklere å gjenfinne basert på gjenkjennelse: Et kjapt scroll gjennom sidene, og man finner tilbake dit man var i går. Det er imidlertid store ulemper med denne praksisen. Én ting er at det blir vanskelig å holde oversikt når antallet vinduer kryper oppover mot hundre, en annen ting er ressurssløsingen dette medfører. For min egen maskin, som må holde alle disse sidene i minnet, og for massevis av webservere der ute som på unødvendig vis kalles opp hver gang jeg åpner Opera. Det er like deilig praktisk som det er nett-etisk uholdbart. Og sånn fungerer vi – om det ikke legges til rette for annet, så tar vi den enkleste og mest sløsete snarveien. Kan hende kan dette løses ved å se på alternative måter å håndtere websider på. Jeg ønsker meg en mellomting mellom å ha en side oppe i nuet og måtte bokmerke den permanent. Et slags side-reservoar, der midlertidige sider stues vekk uten å lastes ned, men likevel er lett tilgjengelige. En annen metode er å la brukeren dele inn sidene i grupper. I dag er fag, nyheter og underholdning osv. blandet, la meg få skape orden i kaoset ved å dra og slippe vinduene – dit de hører hjemme.
Og apropos det
I en hverdag der skole og fritid blandes over en stadig lavere sko gir det ikke mening å ha ett "sett" vinduer på skolen og ett hjemme. Eller for den saks skyld; ett sett innstillinger på jobb og et annet hjemme. Foreløpig er verken internett eller Windows mer avansert enn at man må ty til tredjeparts-løsninger for å holde sine data noenlunde synkronisert. Å betale for å bli kvitt reklame i en nettleser er det få som gidder. Men for min del ville jeg gjerne betalt Opera en del slanter dersom de hadde kunnet lagret mine data sentralt for meg, så jeg hadde hatt tilgang til de samme ressurser og verktøy – uansett hvor jeg logger på fra.
The readable web and the writeable web
En nettleser skal ikke bare lese nett, den skal også skrive nett. Tim Berners-Lees opprinnelige ønske var en web der det var like enkelt å skrive som å lese, og dette bør en moderne browser ta hensyn til. Hvor mye enklere hadde det ikke vært å skrive posten om Møhlenpris dersom jeg kunne dra og slippe bilder og tekstbiter der de passet inn i innlegget i stedet for å forholde meg til strukturelle nødvendigheter som filnavn, urler og HTML-koder?
Det skal bli spennende å se på den kommende nettleseren Flock, som med deres egne ord er "the world's most innovative social browsing experience. We call it the two-way web." Bloggfenomenet har revolusjonert prosessen med å publisere til nett, men det kan fremdeles bli enklere.
…for ikke å glemme the rewriteable web
Den eminente musikkressursen All Music Guide hadde i en årrekke hatt et traust og kjedelig grensesnitt, da de i fjor endret design. Hvilket drev millioner av musikkfans til kollektiv hår-riving, for med endrede farger, struktur og interaksjonsdesign ble sidene plutselig mye vanskeligere å bruke. Kloke hoder pønsket ut en måte å gjøre noe med det, da de lagde et script som ved blant annet å fjerne javascript-lenker gjør AMG lettere å bruke. Dette ble begynnelsen på Greasemonkey, en revolusjonerende Firefox-extension. Vil man se Amazon sine priser side ved side med konkurrentens? Greasemonkey fikser det. Grasrotmakt som er lite populært blant innholdsleverandører og annonsører, men veldig populært hos brukere. Synd at dette ikke lar seg gjøre i Opera, tenkte jeg – men her har de sannelig gjort jobben: Fra og med versjon 8 er user scripts bygget inn i nettleseren.
Mer meta takk
Jada, jeg er blant de som ikke kan gjøre meg opp en egen mening. Jeg vil vite hva andre har sagt, også om websider som ikke benytter trackbacks. Gi meg et sidepanel med referanser (og gjerne tagger).
Men gjør det enkelt
Opera kan med fordel rydde opp i grensesnittet en gang for alle, og deretter få en slutt på praksisen med å flytte på knapper og innstillingene for hver eneste utgivelse. Det er heller ikke nødvendig å stappe alle Operas funksjoner inn i alle kontekstmenyene. Opera er egentlig ikke så oppblåst som kritikerne hevder, men de får massevis av gratis møllevann ved å titte på Operas grensesnitt. Gi brukeren muligheten til å velge mellom enkelt og avansert oppsett. Legg til rette for mest mulig tilpasning.
Kommunisere funksjonaliteten
Opera har jo en drøss med smarte funksjoner som brukere nye brukere rett og slett ikke oppdager. Som alltid er mitt mantra når det gjelder datamaskinbruk: Ned med tersklene! Jon Udell viser med sine "screencasts" hvor mye lettere det er å forstå noe man får det demonstrert. Produsér små snutter som viser brukeren hvordan det skal gjøres.
En del av denne funksjonaliteten (f.eks. synkroniseringsverktøy) dukker nok opp i en Firefox-extension før vi får se det i Opera. Men som gammel og lojal Operabruker hvis fingertupper er mer eller mindre avhengig av dette programmet, håper jeg i det lengste på at Opera ikke uten videre gir opp kampen om nettlesermarkedet for PC.