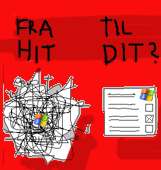 Av og til er det nødvendig med reinstallering av operativsystemet, noe som for en Windows-bruker er en særdeles lite lystbetont affære. Det vil si, selve installeringen er ikke så ille, men det å få satt opp systemet igjen med alle de ønskede programmer og innstillinger, det er rett og slett nitriste saker. Hvor var det nå jeg fant det programmet igjen? Og hvordan var det nå man hindret dette programmet i å starte av seg selv? Et par uker etter sist reinstallering har jeg fremdeles ikke kommet ajour.
Riktignok er det mulig å bruke programmer som Norton Ghost til å klone systemet når det er på sitt mest velsmurte, og så bruke denne når man skal installere på nytt. Men dette er en i tungvint løsning på noe som egentlig burde kunne latt seg gjøre med et par museklikk. Det jeg ønsker i Windows (og andre operativsystemer for den saks skyld) er ett sentralt panel der alle innstillinger lagres og styres. Dette utopiske panelet har to hovedkomponenter:
Innstillinger for operativsystemet. Profiler, utseende, nettverksoppsett osv.
Liste over samtlige programmer og deres forhold til systemet: Brukertilgang, lisenser, filrettigheter (f.eks hvilket program som er standard mp3-avspiller), om programmet får lov til å legge seg i system tray, om det har nettverkstilgang, shell-integrasjon, adresse for nedlasting av oppdateringer osv.
I stedet for dagens vanskelig tilgjengelige jungel av innstillinger får vi en ryddig løsning som enkelt setter brukeren i stand til å kontrollere de ulike programmenes eskapader. Under gjenoppretting oppdateres systemet enkelt med de nødvendige innstillinger og de rette programmer lastes ned. Registeret? I bosset med det. Innstillingene lagres i en fil (format à la XML) som hvis ønskelig kan lagres på nett. Dermed blir synkronisering mellom ulike maskiner en smal sak (systemspesifikke innstillinger og tyngre programmer man mangler lisens for unntas selvfølgelig).
Takk til manuell synkronisering, farvel til å jage nettet rundt for å spore opp alle programmer og Firefox-utvidelser og what have you. Hører du, Bill? Det er fremtiden som roper.