Wildlife er et fantastisk drive-by-filmvisningsprosjekt. En prosjektor montert på en bil sørger for at en tiger i fullt firsprang lyser opp husveggene langs veien. "The framerate of the movie corresponds to the speed of the wheel rotation, picked up by a sensor." Ta en titt på videoen, da vel (mer hos kunstneren Karolina Sobecka).
Det er flere som har tenkt den samme tanken
Noen studenter i Berlin bruker tunnelvegger som lerret ved å feste en prosjektor til en t-banevogn. Gamle problemstillinger om hvem som har rett til å bruke byrommet hvordan reises, og en reklamebransje i stadig jakt på nye medier å boltre seg i er allerede i ferd med å plukke opp ideen.
Skyggespill for galleriet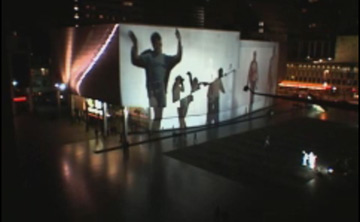 I Body Movies interagerer publikum med "veggskjermen" ved hjelp av sine egne kropper, eller rettere: skygger. Video om Body Movies på en vegg i Rotterdam.
Hvis vinduer kunne snakke…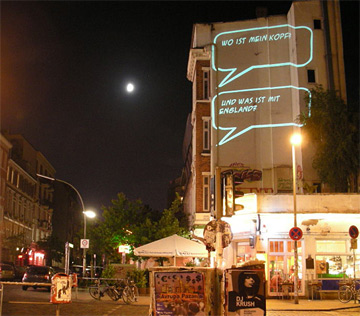 TXTual Healing er nok et kunstprosjekt etter min smak, denne gangen er det snakkebobler som prosjekteres på husvegger (slaviske lesere av i1277 vil kjenne igjen temaet). Publikum benytter SMS til å fylle boblene med det de har på hjertet.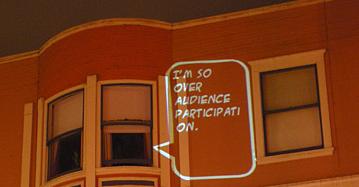 Se den finske allmennkringkasteren YLEs innslag om TXTual Healing.
Så hva venter du på?
Spraybokser og permanerende hærverk er avleggs. Lumen is the new trykksverte. Fisk fram din mest lyssterke prosjektor og følg The Graffiti Research Labs oppskrift på å drive mobil prosjekteringsvirksomhet.