Opera og Mozilla har en ytterst hendig funksjon: Det at man kan bruke adressefeltet som søkefelt. Adressefeltet har god plass, og det føles gjerne litt raskere og bedre i bruk enn det vesle søkefeltet ved siden av. Men det at jeg…
bytter mellom å bruke søkefelt og adressefelt til søk
bytter mellom ulike nettlesere (ingen Opera på jobb)
rett og slett taster feil
…gjør at jeg stundom ikke har den rette syntaksen: Jeg får ikke med den lille g-en foran søketermen som skal angi til Opera at hei herr Opera, dette er et Google-søk på "steak and cheese" og ikke et forsøk på å gå til webressursen "steak and cheese".
Siden jeg er relativt feilbarlig hender dette gjerne flere ganger om dagen, hvorpå Opera serverer meg følgende feilmelding (dog litt større enn gjengitt her):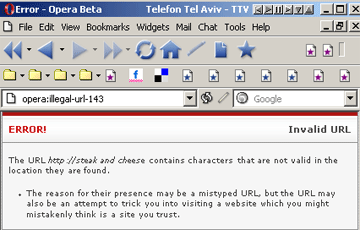 Hver gang dette skjer tappes en irritert dråpe over i et beger som kanskje, bare kanskje en gang renner over og skyller meg i retning av Firefox eller Safari.
Men hva er dette for flisespikkende tøv? Hvorfor er denne feilmeldingen problematisk?
Jo nå skal du høre.
Jeg forsinkes i aktiviteten jeg holder på med: utføre et søk
Jeg må skrive inn søketeksten en gang til, ettersom alt som er skrevet i URL-feltet byttes ut til fordel for en feilkode.
Bruken av utropstegn, store røde røde bokstaver og ord som "illegal" og "invalid" setter en alarmerende, nærmest klandrende tone. Som lojal bruker foretrekker jeg å tiltales på en høflig måte.
Og hey Opera, brukerne deres kjenner nettet godt nok til å vite hvordan en webadresse er utformet. Det bør derfor være åpenbart at en gjeng skrifttegn adskilt med to mellomrom ("steak and cheese") er ment som en søkestreng og ikke en adresse. Slutt å lage ståhei for ingenting, bare send meg til Google.
Jeg krever ikke mer av en nettleser enn a) kjærlighet til detaljene og b) omtenksomhet for brukeren. Brukervennlighet i ordets ulike betydninger altså. Over et tiår etter nettleserens fødsel er det fremdeles ingen som klarer å levere dette.
(Og jada, etter denne posten lover jeg å ta en liten pause fra føljetongen "i1277 syter om software"…)