Prolog: Via en fersk kommentar til et
gammelt innlegg
ble jeg oppmerksom på et løfte jeg lirte av meg i kommentarfeltet en gang i april:
De senere år har det funnet sted en maktforskvyvning på nett, i retning forbrukeren, og vi har sett en "snillifisering" av selskapene. En positiv trend, mer om det om et par dagers tid.
Det kom aldri noe "mer om det", mens dager ble til måneder ble det planlagte innlegget liggende og støve seg på webhotellet. Men siden det nærmer seg jul gjør jeg bot for synden ved å legge det ut nå. Kjør innlegg:
Våre data?
Jeg har tidligere snakket endel om grasrotdata og menigmanns innholdsproduksjon. "Vårt" bidrag til det voksende datasett de kaller internett består imidlertid ikke bare av Digg-enker, bloggposter og del.icio.us-tagger – våre mest vanlige bidrag består rett og slett av pek og klikk. Hvilke lenker vi velger å trykke på, og hvilke vi lar være.
Hvorfor er disse klikkene noe å samle på? Fordi de sier noe om hva vi er interessert i. Og vår oppmerksomhet er verdifull:
For oss selv. Ved å registrere mønstre i vår oppmerksomhet registreres kan den "spisses" og støyrenses (for eksempel ved hjelp av musikktjenster som last.fm, artikkelfiltre som Findory), samt at vi kan vise den fram til andre (iscenesettelse av oss selv)
For andre personer som av en eller annen grunn skulle være interessert i oss og det vi holder på med (foreldrekontroll, følge personer som har autoritet innen spesielle felt eller på andre måter er interessante)
For kommersielle foretak som:

kan bruke dataene til å tilby oss ulike tjenester (jamfør eksemplene over)
presentere oss for målrettet reklame (spyware, Gmail-annonser)
på andre måter bruke forbruksmønsterdata i kommersielt øyemed (for raskere å kunne respondere på trender osv.)
Hver gang vi legger ut en lenke på vår egen hjemmeside, er vi med på å bygge søkemotoren til Google. Det samme gjør vi når vii trykker på lenkene vi får etter et søk. Når vi handler bøker på Amazon, bidrar vi til å bygge opp deres "people who bought this item, also bought these items"-tjeneste.
Alskens selskaper har lenge forsøkt å høste inn våre klikk enten gjennom spyware, eller i form av en kontrakt av typen "du får benytte denne tjenesten mot at du gir oss tilgang til å følge med på hva du driver med". Sistnevnte modell er åpenbart å foretrekke, men også denne er problematisk. Hvorfor skal et selskap (som kan vise seg å gå konkurs eller levere et dårlig produkt) få eneretten til våre data?
Det store antall tjenester som konkurrerer om stadig mer kritiske nettforbrukere har ført til en endring av nettselskapenes kultur: Nå gjelder det å være "snillest" mulig, å fremstå som man er på forbrukerens side. Der web 1.0-selskapene uten å blunke solgte medlemmenes epostadresser til alle som ville betale, er 2.0-generasjonens mantra "we hate spam as much as you do". De er nærmest "en av oss". Parallellt med denne maktforskyvningen i forholdet selskap-kunde, har man i økende grad begymt å operere med åpne dataformater, sånn at den som vil kan ta med seg sine data til en annen tjeneste, eller benytte de til flere tjenester samtidig. En positiv utvikling, men det er lenge igjen: Last.fm-data lar seg vanskelig kombinere med iTunes, som igjen ikke passer særlig bra med Winamp. De ulike systemene åpner såvidt for å snakke med hverandre, men foreløpig er samtalen av den sjenerte sorten.
Samtidig er nettbrukere (det vil si, et lite mindretall av teknologisk oppdaterte nettbrukere) i ferd med å bli mer bevisst på at de har en vare å tilby. Mange bloggere prøver å tjene noen slanter ved å benytte annonser, hvilket gir liv til for-og-mot-bevegelsene Pro-Ad Blog og Ad-Free Blog. Men også enklere former for uttrykk kan selges. Forrige måned (eh, altså i mars og ikke november) benyttet en person på Lillestrøm eBay til å selge MSN-bildet sitt. Og sakte men sikkert er noe som ligner nettforbrukerorganisasjoner i ferd med å bygge seg opp – AttentionTrust er en ideell organisasjon som forsøker å gjøre følgende prinsipper til allmenne rettigheter (hentet herfra):
Property
You own your attention and can store it wherever you wish. You have CONTROL.
Mobility
You can securely move your attention wherever you want whenever you want to. You have the ability to TRANSFER your attention.
Economy
You can pay attention to whomever you wish and receive value in return. Your attention has WORTH.
Transparency
You can see exactly how your attention is being used. You can DECIDE who you trust.
AttentionTrust tilbyr også verktøyet Attention Recorder, "a Firefox extension that allows users to capture aspects of their clickstream and browsing history". Det snakkes sågar om et "personlig API":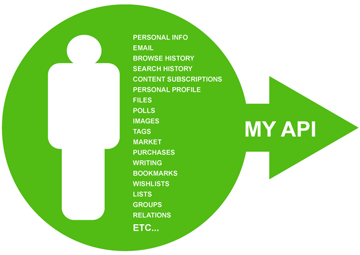 Disse dataene vil man kunne lagre i et eget "hvelv", som man så kan tilby kommersielle foretak adgang til. Selv er jeg mer interessert i (og har langt større tro på) kontroll over egne data av andre hensyn enn de rent økonomiske. Jeg ønsker at systemet skal holde styr på hvilken musikk jeg spiller (uansett hvilken maskin eller spiller jeg bruker) fordi dette er informasjon jeg finner interessant og kan ha praktisk nytte av, ikke fordi jeg ønsker å selge den.
Cory Doctorow oppsummerer det i en omtale av et foredrag last.fm-sjefen holdt om myware*:
I love this idea: people are good at making decisions and computers are good at counting them (and computers are bad at making decisions and people are bad at counting them). My computer should note, count and process every decision I make — it should notice that I never answer emails from certain people, it should notice that I never click through certain stories in my reader, that I load certain pages every day, that I often search my mailbox for certain kinds of messages and so on. That's stuff I'm totally unqualified to keep track of, and that computers are really good at
*Den nye generasjonen datainnsamlende systemer kalles gjerne myware, som i motsetning spyware har til hensikt å samle inn brukerens data på en "snill" (åpen og tilgjengelig) måte.
Som sinte, grønnjakkede ungdommer i palestinaskjerf kanskje ville ha sagt det: Ta data tilbake!